What Is The Best Shutter Speed For Portrait Photography?
Have you ever tried to capture that perfect picture, only to be dismissed by the shutter speed? Well, fret not, because we can relate to the problem. Every photographer goes through a hitch of adjusting the shutter speed and mastering it.
With our helpful tips, you can master the art of capturing perfect pictures. Be it wedding photography, senior portraits, or family photography session, you can use this art to the best of your advantage. For starters, let's start with the basics.
Also termed as exposure time, shutter speed is the length of time in which the digital sensor inside the camera remains exposed to light. In simple words, it is the amount of light that reaches the image sensor while being in direct proportion to the exposure time. We can further derive shutter speed into two types:
A slow shutter speed is nearly around one second or a little longer. It can be referred to as a fraction of a second, such as ¼.
A fast shutter speed is capable of capturing action. Imagine a person running around the wedding venue, and you want to capture them. For that purpose, you might want to set your shutter speed to small fractions of a second. In optimal cases, 1/250 is recommended as a fast shutter speed. Still, if you're going to cover something very fast, you can switch to 1/500 as well.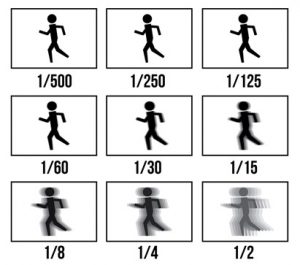 Where is the shutter speed option in the camera
Congratulations! Now you know what shutter speed is and its types. Now coming to the fundamental part – how can you locate the shutter speed option in your camera?
If you have a professional camera, you can find the shutter speed by looking at the screen and seeing the 1/number option. Other places where you can find your shutter speed settings can be the viewfinder of the camera.
How to utilize shutter speed for wedding photography
If you want to cover weddings as a photographer, you have to make shutter speed your best friend. We're not kidding. Hear us out!
Along with the rest of the exposure triangle, shutter speed plays a vital role in covering weddings. It helps you provide sharp and clear pictures when you need them the most. The reason it is so important is that you can fix a bright or dark photo during post-production.
However, if you want to do the same with a blurry image, you won't achieve those results. That is why you should opt for a perfect shutter speed.
Tip: For wedding ceremonies, we highly recommend not going under 1/60 seconds. On the other hand, you can choose 1/200 to 1/60 to achieve the best results for receptions.
Well, now you are familiar with the shutter speed and how to master it. There is no secret formula to learning it. All you need to do is practice it. As a practice session, you can go inside the busiest or wander the busy roads of your city to get the best view.
Lastly, if you are looking for immaculate photography services, you are at the right place at the right time. At Bright Focus Photography, we know what it takes to couple experience with passion. Take it from testimony from one of our clients; we only strive for perfection.
Book with us today to get a FLAT 15% off on your first order with us. So, what are you waiting for? Grab this fantastic opportunity while you're here.
Based in Missouri, Bright Focus Photography is a name of excellence in providing excellent photography services. Our exuberant services, dipped with a punch of humor, will be everything you need for your big day. By adding a hint of honesty, kindness, hard work, and fairness to our work, we stand out among many others for the effort we put into our work.